Get a Trusted Repair or Replacement For Your Fremont Water Heater
A water heater does a lot of work for your home, but it's not invincible. It will run into issues, and after 8 – 12 years, it's a good idea to think about a replacement if there are serious issues. AirComfort Heating and Cooling can diagnose any water heater problem from cold water to leaks and more.
We are the convenient choice in Fremont for quality water heater services.
Do You Need a Replacement or Repair For Steady Hot Water?
There are a few ways that we can help you determine whether you need a replacement or just a repair. With either decision, we will leave you with the perfect temperature of water for your household tasks. These are the considerations we take:
What size hot water heater do you own? – One that is too large can waste energy, and one that is too small won't provide you with an adequate amount of hot water for your whole household.

Do you want higher efficiency? – Newer models are up to 20% more efficient than older ones.

How old is your current water heater? – As we mentioned earlier, 8 – 12 years is about the lifespan of a water heater. You may want to go ahead and replace a water heater this age before the next breakdown is unrepairable.

Is there a leak in the tank? – If you have a leak in the actual tank and not simply a loose valve or busted pipe, you will need a new one.
We only use products made to last. For quality USA made water heaters, call today!
Fremont: 402-205-5060
Columbus: 402-205-5030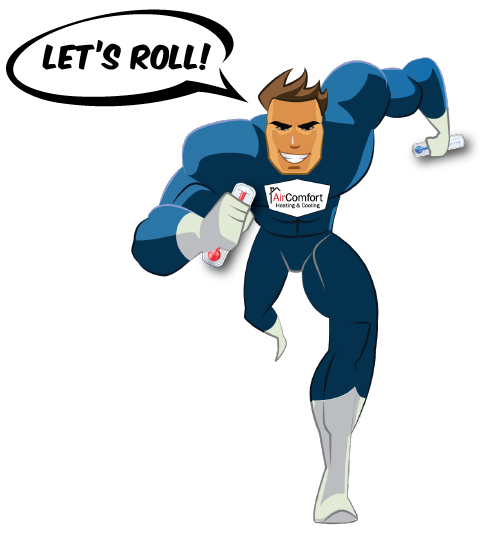 Call On Us For Hot Water With No Hassle
If you're choosy about who enters your home, then AirComfort Heating and Cooling is a company made for you. We went ahead with every precaution to ensure your safety and convenience. We continue to give out homeowner satisfaction surveys to make sure we're doing our job right.
Some of the ways we look after our customers are:
Background checked and drug tested employees

No hidden fees and honest pricing

Requiring your consent for any service or charge

Ongoing factory and customer service training

Dedication to the best possible solutions