Find a Rewarding Career at AirComfort!
AirComfort Heating and Cooling is fast-growing, exciting and FUN place to grow your career in HVAC! With us, you'll have a network of people who truly enjoy working together and look out for each other.
Awards
National Best Contractor To Work For Award Winner ACHR NEWS Magazine

Service Nation Alliance Extraordinary Outlook Award Winner

PHC Magazine Featured Contractor

International Service Leadership Reaching for the Top Award Winner

Fremont Area Chamber of Commerce Workforce Game Changer Recipient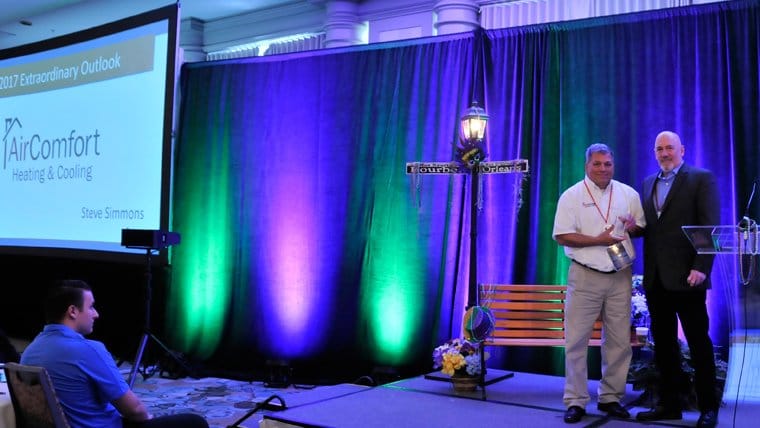 Fun and games aren't all that we're about. We also offer training to make sure you're getting the most out of being with us. We want to work with your raw talent to help you grow in your career.
The AirComfort ProTech Team is challenging the way service it brought to residential homeowners with SuperService, SuperSystems, & Super ProTechs!
At AirComfort, it's more than just a job…
We value our employees and aim to show it. You can expect competitive pay and benefits, as well as the opportunity to earn special bonuses.

We believe in continual education and promote from within. Everyone at AirComfort has the opportunity to grow and prosper.
You're not a number here. From corn-hole to the occasional team appreciation day, we cultivate a truly outstanding culture.

Between work, family and social life, life can be crazy sometimes. We understand and offer flexible hours that accommodate your busy lifestyle.
Employee Benefits:

Company stability – in business since 1981 

Incentives and Bonus Structures 
With branches in Fremont & Columbus and more to come, you'll find ample opportunity. We aim to make you feel like like a Superhero! Join the AirComfort ProTech Team today.
All applicants must be able to pass a background check and drug test.

You must have a valid Driver's License to be eligible for employment.

Please provide references with your resume.